From the desk of Dr Bradley Frick Naples and Fort Myers Chiropractor.
We have started providing CBD full spectrum oil and CBD balm.  We have taken on medical provider only Charlottes Web.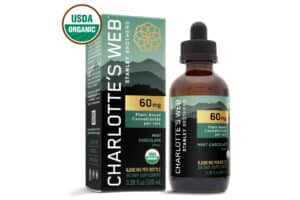 As more and more states legalize the use of marijuana, a product known as CBD oil has surged in popularity. A chemical compound found in the cannabis plant, CBD, or cannabidiol, is non-intoxicating and does not cause the noticeable euphoric effects associated with tetrahydrocannabinol (or THC, another marijuana compound). Products marketed as CBD oil may contain THC.
It's thought that CBD might affect your health by attaching to receptors in the body's endocannabinoid system—a complex biological system involved in maintaining certain aspects of your health. Emerging research shows that endocannabinoids may play a role in regulating such functions as memory, sleep, and mood, as well as metabolic processes like energy balance.
CBD oil contains CBD (and often other active compounds) in a carrier oil. There are a number of forms of CBD oil, including softgel capsules, tinctures, and under-the-tongue sprays. Some forms of CBD oil can also be applied directly to the skin, in the form of products like creams and salves. The concentration of CBD varies from product to product.
Uses
Proponents of CBD oil claim that it can treat a wide variety of health issues, ranging from everyday ailments to chronic medical conditions. These issues include:
Acne
Anxiety
Chronic pain
Depression
Epilepsy
Glaucoma
Insomnia
Loss of appetite and body weight
Muscle spasms
Parkinson's disease
It's also said that CBD oil can promote sounder sleep, reduce inflammation and pain, fight oxidative stress, improve heart health, support weight loss, and protect against some forms of cancer.
Benefits
Although CBD oil is used for many different health-related purposes, there isn't a great deal of research on the oil's potential health benefits. However, there's significant support for the effectiveness of CBD oil in the treatment of some forms of epilepsy.
In fact, the U.S. Food and Drug Administration (FDA) approved Epidiolex (a drug made with a purified form of CBD oil) in June 2018 for the treatment of seizures associated with two rare and severe forms of epilepsy in patients 2 years of age and older. These two epilepsy forms are known as Lennox-Gastaut syndrome and Dravet syndrome. Epidiolex is the first FDA-approved drug that contains a purified drug substance derived from marijuana.
Here's a look at findings from recent studies on several other possible benefits of CBD oil:
Anxiety
CBD shows promise in the treatment of anxiety disorders, according to a report published in the journal Neurotherapeutics in 2015. Looking at results from experimental research, clinical trials, and epidemiological studies, the report's authors found evidence that CBD may help treat generalized anxiety disorder, panic disorder, social anxiety disorder, obsessive-compulsive disorder, and post-traumatic stress disorder. However, the authors caution that human-based research on CBD and anxiety is fairly limited at this point.
Can Marijuana Really Reduce Symptoms of Anxiety?
Addiction
CBD oil may be of some benefit to those with addiction, suggests a review published in the journal Substance Abuse in 2015. In their analysis of 14 previously published studies, scientists determined that CBD may have therapeutic effects in people with opioid, cocaine, and/or psychostimulant addiction. They also found that CBD may be beneficial in the treatment of cannabis and tobacco addiction. There is some evidence that CBD may block or reduce the effects of THC on the mind.
Heart Health
In a small study published in the journal JCI Insight in 2017, researchers observed that CBD may help prevent stress-related changes in blood pressure. For the study, nine healthy male volunteers took a single dose of either CBD or placebo. Compared to those given the placebo, those treated with CBD had lower blood pressure both before and after experiencing a stressful event.
Side Effects
Some research indicates that the use of CBD oil may trigger a number of side effects, including:
Anxiety
Changes in appetite
Changes in mood
Diarrhea
Dizziness
Drowsiness
Dry mouth
Nausea
Vomiting
There's also some concern that the use of CBD oil may lead to increased levels of liver enzymes (a marker of liver damage or inflammation).
Safety Concerns
CBD oil may interact with several medications, including some types of anti-epileptic drugs.
A report from the American Academy of Pediatrics (AAP) published in the journal Pediatrics cautions pregnant women and nursing mothers to avoid marijuana use due to possible adverse developmental effects to their baby. In a study reviewed for the report, short-term exposure to CBD was found to increase the permeability of the placental barrier, potentially placing the fetus at risk from certain substances.
If you're considering trying CBD oil, it's important to discuss potential side effects and adverse reactions with your physician. In one study, for instance, children with refractory epilepsy treated with CBD experienced an aggravation of seizures, sleepiness, digestive disturbances, and irritability.
CBD oils may contain some THC. Cannabis may impair your ability to drive safely or operate equipment and may have short- and long-term effects on your memory, attention, mood, heart rate, and mental health. It is also easy to overconsume CBD oil, so it's important to start with a low dose, as it may take several hours or longer to begin to feel the effects after consumption.
References
https://www.verywellhealth.com/cbd-oil-benefits-uses-side-effects-4174562